LOUISVILLE, Ky. (WDRB) – There is a time when a beginning dancer may feel a little uncomfortable, perhaps embarrassed or intimidated, but it doesn't last long because there are smiles all around.
Welcome to Louisville Salsa Underground, where instructors are educators, any dancer can be a performer, and music unites everyone.
"The goal is just to have fun," said founder Rob Nickerson. "There is no judgement. We are thrilled every time a new face shows up at one of our events."
Nickerson started Louisville Salsa Underground in 2015 to promote and improve dance parties in the city.
"My idea at the time was to bring all of this information together and put it in one place where anyone could find it," Nickerson said. "Soon after that I started experimenting with organizing my own events."
In an effort to share salsa music with more people, the musician and former graduate student at the University of Louisville School of Music chose a name he felt was fitting: Louisville Salsa Underground.
"I always thought that salsa dancing or Latin dancing was kind of an underground scene," Nickerson said. "It was never really integrated into the mainstream culture, the mainstream society here. It's kind of like you have to go find it."
Tony Johnson and his wife, Cierra, attended Waterfront Dancing, an event promoted by Louisville Salsa Underground, on Sunday. Waterfront Dancing is organized by the City Casineras.
As dozens of people danced near the edge of the Ohio River near the Big Four Bridge, Cierra Johnson said she was hesitant at first, but any nervousness was shaken off quickly.
"There are a lot of things that can separate us, one thing that unites a lot of cultures is music and dance," said Tony Johnson. "If you look around, there's not just one type of person here, we're all having a great time."
It wasn't the couple's first introduction to salsa dancing, which came before the COVID-19 pandemic, at a place where Nickerson had become involved in the salsa community.
Nickerson played in a salsa band, performing at SkyBar at Saints in St. Matthews every Thursday. The salsa dance community grew as promoters and dance teachers began to collaborate.
Prior to the COVID-19 pandemic, Nickerson hosted two to three events a month, seeing new faces at each event.
While the pandemic presented challenges and prevented the group from hosting dance parties, the local salsa community wasn't letting it die down. Nickerson said there are now typically three to four nights a week for dancing in Louisville.
Tuesdays, Wednesdays and Thursdays are regular nights for dancing, along with other weekend opportunities.
Weekly dance socials

| | | | |
| --- | --- | --- | --- |
| Day | Time | Event | Location |
| Tuesdays | 7 p.m. | Tumbao Tuesday | Logan Street Market |
| Wednesdays | 7 p.m. | Mambo evenings | Reading bar |
| Thursdays | 8 p.m. | Coconut Salsa Thursdays | coconut beach |
"There are many opportunities to learn Latin dancing here in Louisville," Nickerson said.
At Louisville Salsa Underground Events, the first hour of events includes a beginner-focused dance lesson. Nickerson said welcoming more people into the salsa community starts with education.
With dance teachers at events, Louisville Salsa Underground teaches attendees salsa dancing and the music behind it.
"We're always looking to introduce people to art, to culture, and that can be daunting," Nickerson said. "The way we dance is different from other dances that we see or are popular here in the United States."
At Waterfront Dancing on Sunday, Zack Lowery and Sarah McQuillan admitted to being a bit nervous for their first appearance at the event.
"It's a little intimidating, but we're here to have fun," Lowery said. "It's much more inviting."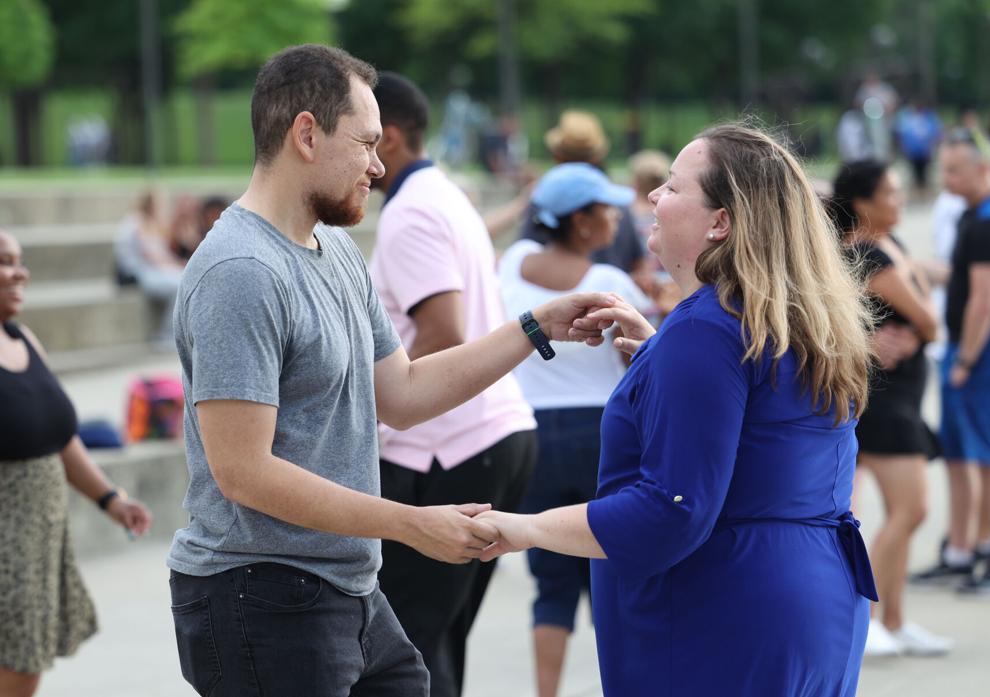 "We saw it happening and thought it would be fun to go out and dance," McQuillan said. "To have events like this that you can attend. It's nice to have."
While Louisville Salsa Underground introduces newcomers to salsa dancing, it also serves the city's growing Latino population by providing a cultural outlet.
"I have no idea what it's like to uproot yourself and move to another country," Nickerson said. "If it's just one thing that makes them feel better about being here in Louisville. It's not Miami, it's not New York or LA, we're in Kentucky."
"We believe that as long as you have fun, you'll love learning, no matter how you look on your first experience, and want to come back and continue to learn and grow with us," Nickerson said. .
To learn more about Louisville Salsa Underground and see the list of events, click here.
To learn more about dancing by the water, click here.
Copyright 2022 WDRB Media. All rights reserved.