Wednesday, September 17, 2014
Lindsay Williams reports on Florida-based worship leader and songwriter JUSTIN JARVIS
These are the congratulations on a release on Jesus Culture Music that any worship leader accomplishing such a thing is almost bound to have an impact on the International Church. The September 30 release of Justin Jarvis' album 'Atmospheres: Live' highlights a humble but anointed songwriter and worship leader who describes himself as a "local church man" who also writes original music for his congregation every week. . Jarvis has overseen and continues to lead the music and creative culture of The Harbor Church in Fort Lauderdale, Florida, but is now lauded by artists like Kim Walker-Smith, John Mark McMillan and Leeland Mooring.
No one was more surprised than Justin when he got a phone call from Kim Walker-Smith, longtime frontwoman of Jesus Culture and president of the movement's record label, calling him asking him to join Chris Quilala. on tour with the idea that they were going to record Jarvis sets for a live album. This would be the singer / songwriter's first tour and his first full record for a label. Jarvis said, "It's not that I didn't want to travel, I just didn't want to open these doors on my own. I'm excited because I feel like God is opening up a whole new world for me. If I don't know, I know that God opened the doors and made a way. I only have him to thank for that. "
Jesus Culture was a natural fit for Jarvis' entry into the music scene, as he befriended highly respected producer Jeremy Edwardson (Michael W Smith, Jesus Culture) years before Edwardson came. in Florida to help record an independent project for Harbor. Church. Shortly after, Jarvis was invited to contribute to Jesus Culture's "Emerging Voices" compilation. He knew the relationship was special from the start, but he had no idea what God was orchestrating. "It was a pretty cool thing, because it was so much more than a business transaction," Jarvis commented. "It was just like God was planning something with this relationship, with this friendship. [Jeremy] was really excited about what was going on in our church. "
As a songwriter, worship leader, and church planter, Jarvis emphasizes helping people become all that God created them to be in the places they live and work, by cultivating an environment of organic evangelism that places the daily lives of believers in the larger context of God's epic narrative. Jarvis continued, "Our heart is really focused on the ordinary people who carry Jesus within their sphere of influence. We really want to see ordinary and ordinary people empowered with Jesus, his love, his Word, his spirit.
[and] its power in whatever sphere of influence they find themselves in. Whether you are a cashier or a banker or a lawyer or a teacher or a cook or whether you work in a church; whatever you do, you bring the presence of God and the power of God and the love of Jesus into this realm, and you give it to the people. "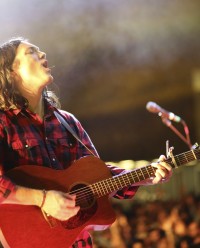 Jarvis recognizes that his church shares a parallel vision with the Jesus Culture movement which makes their partnership transparent. He said, "[Jesus Culture's] over there saying to the kids, "Hey, go do what you love to do; go be what you want to be, and take with you the power, the love and the presence of God in this sphere ". When I heard them say that, I was like, 'Maybe the Holy Spirit is planning something with this relationship even though I'm on the other side of the country.' "
This is why it was easy for him to see this unique tour opportunity as an open door. During his two weeks with Jesus Culture, Jarvis shared the stage with Chris Quilala (guitar), Jeffrey Kunde (guitar), Ian McIntosh (keyboards), Josh Fisher (drums) and Brandon Aaronson (bass) who all acted as his band support. The resulting live album, produced by Edwardson, pushes the boundaries of standard live cult recordings. While some of the original 10 tracks of "Atmospheres" – all written by Jarvis and spanning over 60 minutes – were hymns that he had conducted for years in his church, three songs are all new, meaning he's not. he hadn't even had time to "test them on the road" with his own congregation. Yet the project is so tightly woven sonically and lyrically that listeners will find it hard to believe this was Jarvis's touring debut.
About the theme of the album and the title track, Justin explained, "The whole concept of 'Atmospheres' is just this tension between meeting God who deposits something in you and sharing that with you. the others on a daily basis. we go, our lives are bridges for the love of God and the power of God in us and through us. The Holy Spirit in us will change the atmosphere, and we will leave an impact wherever we go.
The puffy soundscapes of 'Atmospheres live up to its breathtaking title with big, bold anthems big enough to fill arenas and evocative comparisons to Coldplay, The Killers and Arcade Fire – all bands that influenced Jarvis, who started out playing guitar and leading high school worship. Growing up in Alabama, Jarvis sang in chorus starting in elementary school, but it was during his pivotal years in high school and college that his musical preferences were shaped. As a teenager, he was inspired by artists who had the ability to add spontaneity to their sets in the midst of their live performances – like Counting Crows and Dave Matthews Band. Justin observed, "I think it's powerful the effect of arena rock on people on such a massive scale live. There's something about that sound that touches us. We're going to be bringing together tens of thousands. both and listen and sing, just because we love it and it touches our hearts. "
Jarvis's penchant for indie rock and the depth of his theology are evident in the album's opening guitar riffs. The striking lead cup, "Take Heart," based on John 16, reminds believers that faith in God does not exempt you from the trials of life. The singer commented: "This song is a very important song for me, because I think people need to hear hope in the context of problems. You don't really have real hope without real hope. problems." Also rooted in the scriptures, the mighty "Light from Heaven" comes from Isaiah 58 and serves as the "first modern hymn" according to Jarvis. "It is about Jesus in us and through us. As we deepen our relationship with him, he is both the light we look to and the light we shine on others. liberates, teaches us to trust him and gives us the grace to overcome by his Spirit. "
The closest "Born Of God," a song Chris Quilala recorded for Jesus Culture's most recent record, is a shameless account of the gospel from Isaiah 53. Jarvis said, "Jesus was like us . Her love and humility and the power of her choosing to really come and embrace the world – it's crazy. A baby in the arms of a teenage girl – just submit to that, to a childhood and adolescence and learn the trade of his father and to be in a body that was that is not too impressive; yet his life here proclaimed the coming of the Kingdom of God on earth. His life tore the veil so that every person would know God. was not just a great spiritual experience, it was a lifetime. It was a day – the day, morning, noon and night life that he lived. "
Jarvis continued, "We have encounters with God that mark different parts of our journey in life. God gives them to us so that they become catalysts for our daily lives. An instant encounter with God leaves an impact, but that impact is fully realized when we carry what God has given us every day and give it to the world around us. "
With 'Atmospheres' Jarvis hopes each song extends pieces of the hope, life, and love he experienced through his relationship with Christ. Justin admitted, "I think there's a lot of faith, a lot of hope, a lot of deep theology in the record that I want people to grab hold of so that they are ready to believe in God for everything. really that songs open encounters with God that touch people's hearts, deepen them and leave them changed. I hope the songs will give people confidence in what Jesus has done for us so that we can live life that he called us to live – as sons, as daughters – that songs will inspire people to believe in Jesus and to act in his love and power. "

The opinions expressed in this article are not necessarily those of Cross Rhythms. All opinions expressed were correct at the time of posting, but may or may not reflect the views of those affected at a later date.
Lindsay williams is an American journalist.